Employers Name the Skills they Seek in MBA Graduates
By Alex C.


Global businesses have high expectations when investing in MBA talent. Employers believe MBA graduates should have already established a professional record before fine-tuning their perspectives and skills in business school. So much so, nearly 70 percent of employers expect MBA graduates to hold at least four years of work experience. This advanced working profile makes MBA hires unique to organizations and drives the premium salaries often commanded by MBA graduates.

Almost 15 percent of employers represented in this report actively recruit MBA graduates, and this rate is even higher in industries such as consulting and finance and lower in science, law, and non-profits.

The findings show perspectives collected from some of the most sought-after destinations for MBA talent, including McKinsey & Company, Ernst & Young, Goldman Sachs, and Google.



Skill expectations and evaluation for business school graduates
MBA employers overwhelmingly rate soft skills as more important than hard skills. This isn't to imply that technical knowledge is unimportant, but to emphasize the ability to interact, communicate, and lead remains paramount to successfully move organizations forward.

Top five skills by importance for MBA employers
| | | | | |
| --- | --- | --- | --- | --- |
| 1) Communication Skills | 2) Strategic Thinking | 3) Interpersonal Skills | 4) Management Skills | 5) Leadership skills |
| 98 | 97 | 96 | 95 | 95 |


When exploring the evaluation of skills by MBA employers, we uncover a clear gap between what employers want and where MBA hires appear to excel. Specific skills – such as marketing, finance, and computer skills – receive the highest satisfaction scores, even though these aren't as important as soft skills to employers.

On the other hand, strategic thinking and leadership – voted as top five skills by employers – are evaluated with the lowest satisfaction. This gap, where the most important skills are evaluated relatively poorly by employers, has the potential to threaten the long-term value proposition of management education.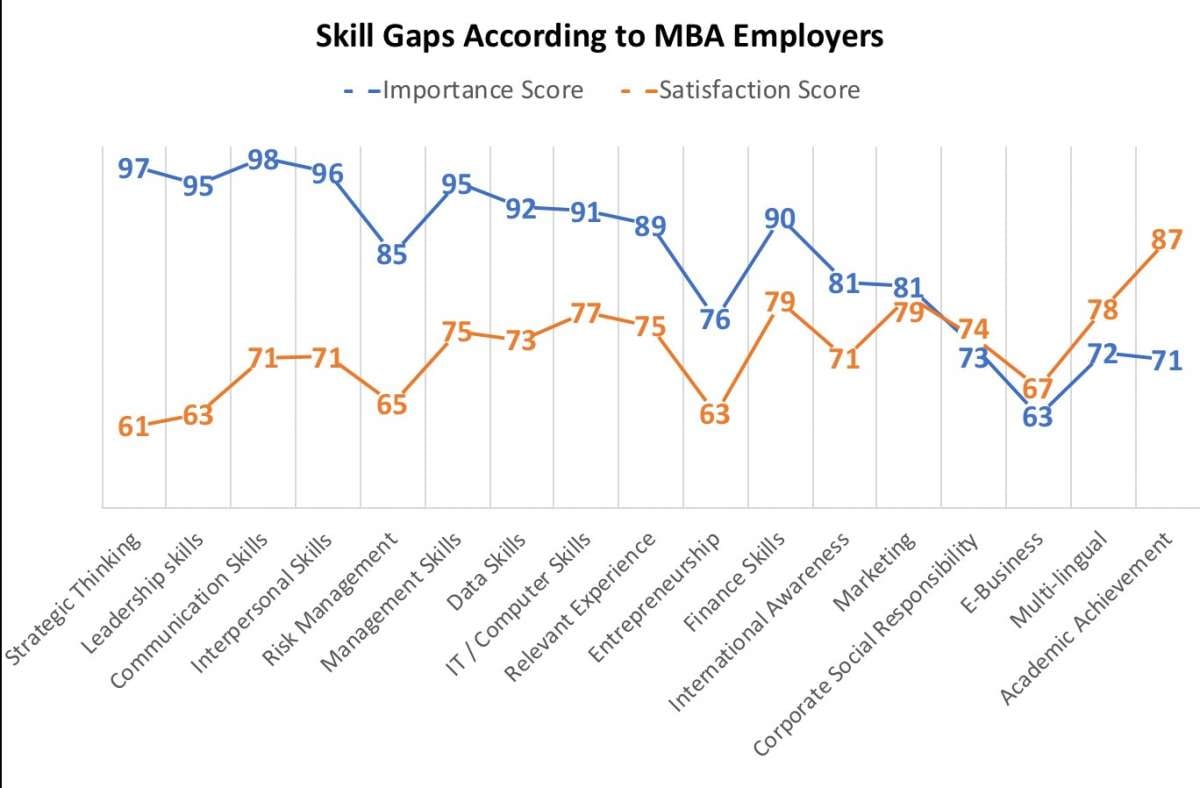 The impact of industry
Skill expectations for MBA graduates depend largely on industry factors. Employers in the leading sectors for MBA talent – consulting, finance, and technology – each identify distinct skills priorities and shortcomings.

In consulting firms, for instance, communication was reported as the most important skill compared with, not surprisingly, financial skills in the finance industry and perhaps more surprisingly, interpersonal skills in technology companies. These varied outcomes extend to skills gaps. In consulting, where employees typically support clients with insights and guidance, strategic thinking shows a negative gap of 46 points. In finance, leadership shows the biggest difference in importance and satisfaction scores of 35 points. Finally, a 44-point mismatch in data skills drives discontent in the technology industry where MBAs may find themselves working closely with experienced data scientists and engineers.

Firms operating in different sectors clearly tailor their hiring practices to meet the unique operating challenges they face. Although MBA graduates are well positioned to add value in all professional settings, understanding the skills pain points of specific industries will enable them to further standout in the interview process.


Consulting
Finance
Technology
Skills with Highest Importance Scores

Communication: 100
Interpersonal: 98
Management: 98

Finance: 100
Strategic Thinking: 98
Interpersonal: 98

Interpersonal: 100
Communication: 100
Data: 97
Strategic: 97

Skills with Highest Satisfaction Scores

Academic Achievement: 86
Finance Skills: 78
Multi-Lingual: 75

Academic Achievement: 92
Finance: 92
Communication: 92
Relevant Experience: 92

Academic Achievement: 90
Communication: 83
Finance: 83

Skills with Lowest Satisfaction Scores

Strategic Thinking: 51
Leadership: 56
Interpersonal: 58

E-Business: 54
Entrepreneurship: 59
Leadership: 62

Data:53
Entrepreneurship: 56
CRS: 64

Biggest Gap: Satisfaction Score – Importance Score
Strategic Thinking:

Importance: 97
Satisfaction: 51
Gap: -46

Leadership:

Importance: 98
Satisfaction: 62
Gap: -35

Data Skills:

Importance: 97
Satisfaction: 53
Gap: -44
note: the difference between importance and satisfaction scores may not match the shown gap total due to rounding errors

Other interesting findings relating to skills and MBA hiring:
Companies optimistic about the future report smaller skills gaps, on average, than companies who are less optimistic.
Small companies' value entrepreneurial skillsets more than larger companies and are less satisfied with these skills in MBA hires.
Satisfaction scores for strategic thinking are significantly higher for organizations that demand a greater amount of work experience from MBA hires.
Global and regional companies are much more likely than local companies to note the importance of multi-lingual abilities of MBA graduates.
Awareness of these skills and their observed gaps can help business schools open dialogue with corporate partners, shape curriculum on campus, and better prepare students for interviews.